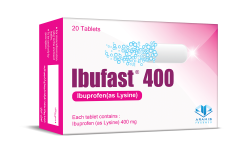 Dosage Form: Oral Tablet
Packaging: Each box contains 20 Ibufast® Tablets.
Administration & Dosage:
Adult & children over 12 years old:
Ibufast® 400: Take one or two tablets every 4 or 6 hour (maximum recommended daily dose: 1200 mg/ day or 3 tablets per day)
 Direction to use:
Take Ibufast® after meal with a glass of water.
Take Ibufast® not more than 10 days.
Drug interactions:
SSRIs (Fluoxetine & Sertraline …), Antiepileptic (Carbamazepine, Phenobarbital or Phenytoin), Anticlotting agents (Warfarin, Clopidogrel, Heparin ), ACEI (Enalapril, Captopril), Methotrexate, B blocker ( Propranolol ), lithium.
Storage conditions:
Keep out of reach of children, store below 30° c, away from light and moisture.
Contraindication: Do not take Ibufast® if you
are allergic to Ibuprofen or any of the other ingredients
have had gastrointestinal bleeding or perforation when previously taking NSAIDs (Non-steroidal anti-inflammatory drugs)
are taking other NSAID painkillers or more than 75mg aspirin a day.
have severe liver or kidney problems
have heart problems, high blood pressure or blood coagulation disorder.
Have breathing difficulties
are during the third trimester of pregnancy
are under 12 years old.
Pregnancy & Lactation:
Ibufast® during breast feeding and lactation must not be used unless the physician advises.