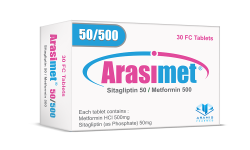 Arasimet® 500 + 50
Metformin 500 + Sitagliptin 50
Dosage Form: Coated Tablets
Packaging: Each box contains 30 Arasimet 50/500 tablets.
Administration & Dosage:
Type 2 diabetes
Adult: initially, Aramiset® should be given once daily with meals, with gradual dose escalation, to reduce the gastrointestinal side effects due to metformin.  At the beginning take one tablet daily after meal. It can be increased to 2 tablets daily.
Children: Safety & efficacy of the medicine has not be studied in children under 18.
Precautions & Warnings:
Before taking this medication, tell your doctor or pharmacist if you are/ have
Allergic to Metformin or Sitagliptin
Diabetes type I
Chronic or acute metabolic acidosis
Kidney or liver dysfunction
In patients above 80 years old
In patients who investigate with contrast medicines
Hypoglycemia
Drug interactions:
Do not take this medicine with Digoxin / Nifedipine / Cimetidine /Amiloride / Morphine / Quinidine / Ranitidine / Triamterene / Vancomycin/ Trimethoprim / OCPs / Rofecoxib / Calcium channel blockers / furosemide / Isoniazid. .
Pregnancy & Lactation:
Do not take this medicine during pregnancy and breastfeeding unless it is prescribed by your doctor.
Storage:
Keep out of reach of children and Store below 30 °C / away from light and moisture.