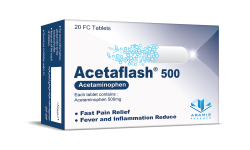 Dosage Form: Coated Tablets
Packaging: Each box contains 20 Acetaflash® 500mg tablets.
Administration and Dosage
Maximum dose: 4 g in 24 hours for adults and children over the age of 12 years of age. Varies by patient population and age.
General dosing considerations: Caution chronic alcoholics to limit acetaminophen intake to 2 g or less per day.
Patients should not use oral acetaminophen with any other product containing acetaminophen.
Adults & children over the age of 12:
Antipyretic / Analgesic
Usual dosage: 500 mg every 4 to 6 hours.
Maximum dose: 4 g in 24 hours.
Storage / stability: Store at 15° to 30°C .Avoid high humidity and excessive heat. Protect from freezing.
Contraindications:
Hypersensitivity to acetaminophen or any other ingredients of the product
Warnings / precautions
Pregnancy: category B.
Lactations: No adverse reactions in breast–feeding infants were reported.
Drug Interactions:
Some of the medications that may cause acetaminophen drug interactions include Barbiturates, Alcohol (Ethanol), Warfanin, Isoniazid, Sulfinpyrazone, phenytoin and Active charcoal.