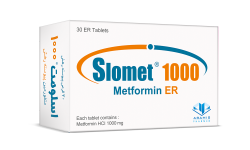 Metformin Extended Release 1000mg
Slomet®  1000 mg
Metformin Extended Release 1000mg
Dosage Form: Oral Tablet
Packaging: Each box contains 30 Slomet®  1000  Tablets.
Contraindication:
if you are allergic to Metformin
Diabetes type I
Chronic or acute metabolic acidosis
Kidney or liver dysfunction
In patients above 80 years old.
In patients who investigate with contrast medicines.
Hypoglycemia
Pregnancy and breastfeeding:
Do not take this medicine during pregnancy and breastfeeding unless it is prescribed by your doctor.
There is not enough evidence for safety of this medicine in pregnancy and breastfeeding.
Indications and administration"
There is no fixed dose regimen for the management of hyperglycemia in patients with type 2 diabetes with Slomet® 1000.
General administration of Slomet® 1000:
Adult: In order to decrease the gastrointestinal problems take the medicine, take one tablet once daily with the evening meal and full glass of water. It can be increased to 2 tablets  ,daily.
Children : Safety & efficacy of  the medicine has not be studied in children under 18 .
Drug interactions:
Iodinated contrast materials cause acute renal failure or lactic acidosis ( should be discontinue the indication of Slomet 1000 at for 48 hours before X ray
Alcohol , Nifedipine ,Cimetidine , Ranitidine , Rofecoxibe& furosemide may increase the  plasma concentration and pharmacological effect of Slomet 1000
Diuretics , hormonal contraceptives, calcium channel blockers , corticosteroids & phenytoin may decrease may produce hyperglycemia and may lead to loss of glycemic control of Slomet 1000
Alcohol
Storage Condition:
Store between 15-30° C , protect from light & moisture.