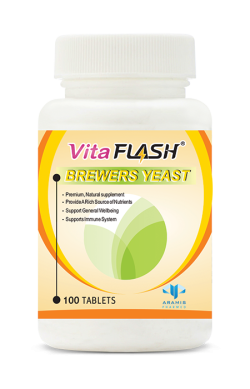 Brewer's yeast is a natural supplement rich in vitamins, minerals, fatty acids and essential amino acids.
Indications:
Help supply B vitamins, Selenium and chromium.
Provide a rich source of Nutrients
Support general wellbeing
Support immune system.
Dosage:
As a dietary supplement take 2-6 tablets every day or based on the advice of your pharmacist/physician
Warning:
Keep out of reach of children.
Do not exceed the recommended dose, unless advised you by your pharmacist/ physician.
Storage:
Keep in room temperature (25-30 °C)
Protect from light & moisture.
Close the can completely after each use.
| Title | Amount | Daily Needs |
| --- | --- | --- |
| Vitamin B1 | 24 mg | |
| Vitamin B2 | 0.03 mg | |
| Vitamin B3 | 1.5 mg | |
| Vitamin B5 | 1.5 mg | |
| Vitamin B6 | 0.12 mg | |
| Vitamin B7 | 0.6 mg | |
| Folic acid | 3 mg | |
| Zinc | 0.9 mg | |
| Mg | 3.6 mg | |